13 Oct

Beat Employee Retention Woes With Your Green Bay & Northeast Wisconsin Break Room

There are plenty of challenges to being in business right now. Let us help with at least one – employee retention. If your Green Bay and Northeast Wisconsin company is experiencing hiring challenges, upgrade your break room space to show employee's appreciation, reflect a successful image, and target employee tastes.
Show Employees You Value Them
Recognition can go a long way to encourage hard work and productivity. Besides the manager giving a 
shoutout
 to an employee at the next meeting, try something everyone loves – free food. BE'S Refreshments offers Green Bay and Northeast 
vending customers
 FREE VEND coupons. Your company can purchase these and hand them out whenever you want to show appreciation or reward a goal. They work instantly at all of our vending machines.
Green Bay and Northeast Wisconsin micro-markets make it even easier to reward employees. Money can be added to employee micro-market accounts from a computer. There's no coupon needed. Boost the employee appreciation power of your micro-market further by posting work anniversaries or employee of the month signs right on the micro-market kiosk.
Want to go all out and provide food to employees free all the time? Ask about our Green Bay and Northeast Wisconsin corporate 
pantry service
.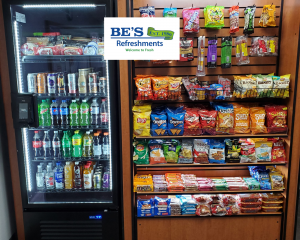 A Break Space That Reflects Success
Keep the image of your company strong in the mind of employees. Vending machines with the latest technology, such as 
mobile pay
options are a must. Self-checkout kiosks or display monitors with micro-markets also enhance the image of innovation in a break room. Whatever service your Green Bay or Northeast Wisconsin break room has, make sure it's reflecting your company well. Otherwise, get BE'S Refreshments to give it a boost. After all, everyone wants to be part of a winning team.
Innovation doesn't just have to be with payment and checkout systems. Many Green Bay and Northeast Wisconsin employees want to do good. More recycling in the break room or switching to a 
water filtration system
 that doesn't require plastic bottles can make employees feel part of a company who cares for the environment. They will appreciate your business more and want to stay.
Items Tailored To Employee Wants
Ensure your Green Bay and Northeast Wisconsin break room is meeting your employee needs. If they want healthy keto products, ask, and we shall supply items that fit the need. We are ready and able to take special requests and change up the typical products you'll find in a Green Bay or Northeast Wisconsin break room. You can do just about anything for our customers.
In addition to your special requests, BE'S Refreshments also changes products based on purchasing data. We go out and find similar products to what is selling well and place more of that in your break room. This customizes the refreshment offerings to your specific location. Whether it's in the vending machine or the micro-market, we are keeping the product mix fresh.
Don't let an advantage in employee retention get past you. Contact 
BE'S Refreshments
 at 920-983-2318 for service that will keep your employees happy, loyal, and telling their friends about your great company.